The Sharpe Series
by Bernard Cornwell was a particular favourite of a fella I used to date.  Some 21 books including novels and short stories, most of which have been made into a television series starring Sean Bean.  My friend was a fan of both books and TV episodes which are swashbucklers, full of adventure, amazing battle scenes, and intrigue, Sharpe being a British soldier during the Napoleonic Wars.  Written by Bernard Cornwell, they are only a portion of the novels by this prolific writer.  He first began writing when he was denied a 'green card' in the United States after marrying an American lady he met in Ireland while working for the Thames T.V. News Division.
My favourite Cornwell novels are from The Warrior Chronicles (also called the Saxon Stories) which take place in 9th & 10th century England in what was then Anglo-Saxon Wessex during the time of Alfred the Great and his heirs.  Narrated by the protagonist Uhtred Ragnarson (son of Ragnar) of Bebbanburg, a stronghold in the north, these books are full of adventure, connivery, and the warrior ways of the ancient Saxons and Danes.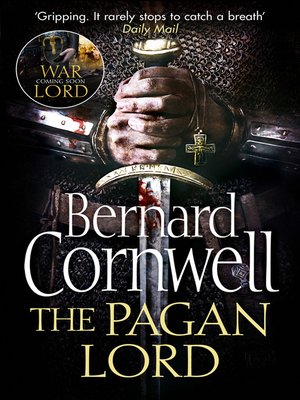 I've just finished reading The Pagan Lord
, book 7 in the series, in which King Alfred is dead and his son, Edward, rules Wessex in his place.  Lord Uhtred is outcast by the Christians in Mercia, his home, for killing a priest and decides to take the few warriors who remain loyal to him and try to recapture his home fortress in Bebbanburg (from which he was ousted by his uncle when he was just a lad of 10).  At first, he has the boldest and vaguest of plans on how to do this but it comes together and, while he fails in his attempt, he kills his uncle and captures his cousin's wife and son.  This is when he starts to recognize the Danish plot spearheaded by Jarl Cnut Ranulfson of Northumbria to take over the south of England.  Uhtred comes up with a plan to draw Cnut away from the south to battle with him. With bravado and bluff, he takes a key fortress belonging to Cnut, holds his wife and children hostage, and then sends one of Cnut's men to taunt him.  With fewer than 40 warriors in his company, Uhtred will need the help of the ruler of Mercia neither likes nor trusts him, King Steven who is more likely to defend his home than come to his recue but he sends word anyway.  He finally must make a stand against Cnut's 4000 warriors whether Edward and Lord Aethelred of Mercia are on their way or not.
This book series is highly acclaimed.  Cornwell is a master at describing battle scenes whether from the Napoleonic wars or Alfred's Anglo-Saxon England.  A bit gory at times, realistic, and heroic, the outcome of the final battle of The Pagan Lord will prove or disprove the prophesy that 7 kings will die and we're kept in suspense right to the end of the book as to whether Uhtred will survive to be the narrator of book 8, The Empty Throne
which will be available in the UK on 23 October 2014 and in the US on 6 January 2015.
Bernard Cornwell talking about The Burning Land, #5 in his Warrior Chronicles.
Cornwell is coming to Toronto, Ontario on September 29th for a book signing and discussion of his latest work, the non-fiction story of Waterloo: The History of Four Days, Three Armies and Three Battles.  The event will take place in the Bram & Bluma Appel Salon, Toronto Reference Library, 789 Yonge Street.  He will also be doing a U.K. tour in October.  For more information about his books, his events, and comments by other readers/fans, check out his site.  He is also the author of The Grail Quest series, The Warlord Chronicles, and The Starbuck Chronicles.  With his wife, Judy, under the pseudonym Susannah Kells, he co-authored a trilogy, A Crowning Mercy, Fallen Angels, and Coat of Arms.