I received a free copy of this book from Revell Reads, a division of Baker Publishing Group, in exchange for an honest review and my participation in a September Blog Tour.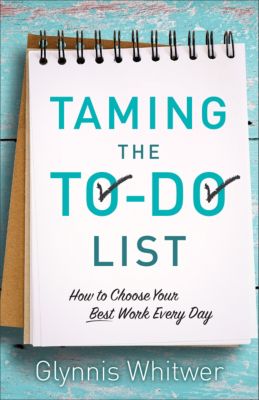 Taming the To-Do List is a subject that will appeal to many.  Most of us have encountered problems with an overwhelming 'to-do' list. Well, so has Glynnis Whitwer; hence, this book.  The technology age that gave us so many appliances that were supposed to bring more leisure time with our families, soon gave way to an information age where it is easy to shift undone items from an old list to a new list, have myriad social network distractions, and put the onus on us to respond to others who inundate us with emails and text messages.  Were people too busy and overwhelmed 50 years ago?  Probably.  But probably not at the same frenetic pace we are today.
Whitwer has broken down the problems that stem from that out-of-control to-do list that soon seems like an octopus pulling us in different directions all at once, into causes and solutions.  While acknowledging that not everyone will have all, or even some of the same problems, she is able to help, chapter by chapter, to organize some basic elements (like procrastination, myths we find solace in, and the costs involved when we let things 'slide'), how to peel them back, find the causes, and slowly, prayerfully change our priorities with all the ensuing benefits.
God has promised forgiveness to your repentance; but He has not promised tomorrow to your procrastination.
Beginning with this quote from St. Augustine, and using her own personal experiences, Whitwer examines how we procrastinate and gives us hints and tools for uncovering the 'whys' of our procrastinations.  She asks us to look at two areas of our lives we'd like to change, a regular task and a personal goal, and then at the end of each chapter, she asks us to apply the principles highlighted there to these two areas to reveal how our lives will change exponentially as a result.
Stressing the importance of our health (including sleep) in order to give our best, and our trust in the word of God, Whitwer shows us various studies that help us to understand how we're designed and things we can do or avoid doing to help us stay sharp.  She uses studies to show us how our minds work and how something like having to make a lot of decisions in a day can tire us out and leave us unmotivated and lacking in energy and willpower.
There are lots of good suggestions for everyone in this book and you can glean helpful advice even if you feel not everything can be applied to your situation. For Whitwer, the key is leaning on the truths from the word of God and trusting in His promises.  This is a very good interpretation of basic things that leave us paralyzed in the face of our to-do lists. * * * *
Glynnis Whitwer has written seven other books you might enjoy and you may read the text of an interview with her on her blog.